Meet Our Donors
We thank all our planned-gift donors for their generous support. Here are some of their stories.
Anita Morse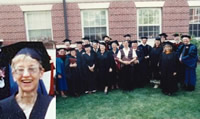 The first of my family members in North America were migrants who came from England and France in the 1600's. Some came in family groups; some were military recruits; some may not have even chosen to migrate but were signed on to ship rosters by master, parent or crown. Personal liberty was not an idea my early ancestors would have understood. It was a different North America from that of the late 19th Century when my father's paternal and maternal grandparents emigrated from Maine and New York State to Topeka, Kansas and Chicago, Illinois where they started businesses, and my mother's maternal and paternal grandparents emigrated from Quebec and Ontario, Canada to Michigan for new farmland. The families settled down for a generation and then sent sons and daughters on for education and new business opportunities. I grew up near a town in Berrien County, Michigan called "the City of the Four Flags" (France, Britain, Spain, U.S.A.), commemorating the explorers, soldiers, traders, settlers and missionaries who built Fort St. Joseph and raised flags over the territory. A small plaque remembers the Potawatomi Nation people who were forced to migrate - - removed from the territory. In the 1950's, I witnessed the migrant workers from the South, Mexico and Central America who were trucked to Berrien County, MI and St. Joseph County, IN for farm and factory work. Most were sent back home. Some stayed and pursued the opportunity of a better life for their families, just as my family had done before.
In the early 1960's, I served in the Peace Corps in Thailand as an E.S.L. teacher. I traveled to South East Asia to learn about the problems that migrant workers experience when jobs dry up and migrants are no longer welcome. I could have stayed at home to witness the Studebaker Corporation shut down. Many displaced workers brought up from southern states during World War II didn't receive even the basic literacy skills needed for retraining programs. I had the privilege of teaching these hard - working adults who wanted nothing more than a chance for another job so that their children could stay in school. I went on to law school, stayed in higher education and, over the years, worked in advocacy and research programs on juvenile justice reform, immigration reform, and Native American tribal court reform. When I came to Earlham School of Religion in the 1990's as a student, I volunteered in a family mediation program serving the children of the continuing stream of migrant workers who move to find work. I feel strongly that the children of today's migrant workers ought to have the same educational opportunities and support that my migrant ancestors had.
At Earlham School of Religion, I found a place for reflection and the companionship that I needed for the difficult task of working for peace and justice in the world. After graduating from ESR, I continued my work in higher education and served as a court - appointed advocate for children referred to the St. Joseph County, IN Probate Court. Now I am volunteering with a local college to find funding and support for undocumented students. I continue to be a strong advocate for building support for state and federal legislative change for and community acceptance of those seeking the freedom of a better life. My hope is that my contributions to ESR for the peace and justice program will lead to an increased emphasis on teaching leadership and conflict resolution skills to students and workers in peace and justice organizations so that ESR may serve as a home and moral compass for all students and practitioners of peace and justice.
Ruth Esther Durham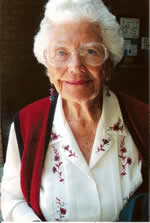 Ruth Esther Durham was born into a Quaker family in Ohio on July 22, 1914, third of the four children of Amos Clyde and Ann McKenzie Fisher, and grew up on a farm near Wilmington, Ohio. She graduated from Ohio's Wilmington College, and moved to Whittier, California in 1928 for further study. Ruth Esther taught biology at Madera High School, near Fresno. In a 33-year teaching career, she also taught at El Monte High School and was a counselor there. She loved having summers free for travel.
It was in Whittier that she met and later married Floyd Durham, a biologist. The Durhams, who lived comfortably but frugally in El Monte and were ecologically minded, gave generously to needs all over the world and set up a trust from which they could continue to support various causes. Earlham School of Religion was included among those causes.
Floyd and Ruth Esther's son, Earl, died before graduating college in a plane crash as he returned from a summer job working in an Alaskan cannery. Ruth Esther established a scholarship at ESR in his memory. In particular, Ruth Esther wanted to support those students who were preparing for Christian service. Each year, Ruth Esther's generosity and forethought supports the education of two students.
During one visit with Dean Jay Marshall, Ruth Esther inquired about the principle value of the Durham Scholarship. The answer caused a brightening of her face and a twinkle in her eyes, along with the response, "I never would have thought my support would amount to so much!" Ruth Esther continued her support of ESR's mission with a bequest gift at the time of her death.
Patricia C. Thomas, M.Min. '90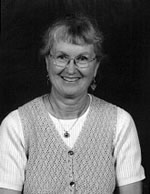 My father instilled in me the conviction that education is the key ingredient in expanding our horizons, opening our mind and spirit to the fullness and truth of the world around us, and in some instances pulling ourselves up by our bootstraps. When I realized I wanted to know more about things religious but in an open, caring Friendly environment, a F(f)riend said, "Why don't you go to ESR?"
From my mother I learned the importance of supporting the organizations engaged in the work I believe in. My slant on Mom's conviction is to support Quaker organizations almost exclusively. The Earlham School of Religion falls nicely into every one of my giving categories!
As for me, I lean heavily on personal experience - this I know experientially, and intuition — the movement of the Holy Spirit, sometimes as a leading to be tested, and sometimes as a knowing or hunch to be acted upon without further ado.
My decision to attend ESR was a combination of my father's trust in education and a clear leading to experience the wider-family of Friends in a gathered community, to dive in with both feet (after our younger son graduated from high school) and see what happened! What 'happened' is I moved into public ministry, earned a Master of Ministry degree while acquiring a vocabulary along the way in which to express my own beliefs as a life-long Friend, and grew to appreciate the stories of people whose faith journey is radically different from mine. I often sensed that what we have in common is a heart-felt longing to live a life in which God matters.
In sum, my experience at ESR validated my father's trust in education. The conferences, workshops, public lectures and occasional classes I've participated in over the years since graduation confirm my trust that Friends have a message which our battered world sorely needs. Committee work in my experience is infused with a spirit of centered worship where attentive listening happens between committee members whether we are seated around the conference table or scattered across the country on a conference call. I feel fortunate that in addition to 'hands-on work', I am able to contribute financial support to my alma mater, the Earlham School of Religion.
Shirley Haflich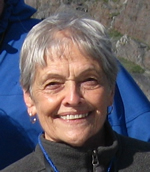 Shirley Haflich has been a member of the Religious Society of Friends for over 70 years. Her mother, Geneva Shirley, was a birthright Quaker, born in Hendricks County, Indiana, and raised in Amo Friends Church. Her father, Herb Fledderjohn, was raised Presbyterian and had never met a Quaker until he met Geneva. In the early 1940s the family moved to Decatur Township, Marion County, Indiana, and became members of Valley Mills Monthly Meeting where Herb and Geneva were active. Later, Herb served on the Board of Directors of the Midwest Office of the American Friends Service Committee and in the 1960s, he and Geneva spent two years with AFSC in Jordan developing a program to train leaders for cooperatives. Shirley graduated from Indiana University with a degree in Journalism. Her brother, David, graduated from Earlham College in 1957.
In 1952, Shirley married Gene Haflich, who also became a member of Valley Mills Friends. Over the years, she and Gene faithfully contributed to the life of the meeting and Western Yearly Meeting, serving in multiple capacities. Shirley and Gene raised two children, both of whom attended and graduated from Earlham College in the late 1970s.
When Shirley and Gene got to a point in life where they felt they had more income than they needed, they agreed that their ability to make an impact would be better served if they chose to support a few causes rather than give to every organization that needed funding. Both felt that education was the foundation for much of modern life and both felt a deep connection to the Society of Friends. These two interests led to focusing their giving in two specific areas: the work of Friends and education.
Since then, they have faithfully supported both education and the work of Friends, most notably through contributions to Earlham College and Earlham School of Religion. In 1986, Shirley retired after 22 years of teaching English and Journalism at Decatur Central High School in Decatur Township. Even after Gene died in 2002, Shirley has continued to honor their commitment of support with her planned giving. Currently, Shirley lives in Indianapolis where she serves as Administrative Council representative to Western Yearly Meeting for Valley Mills Friends and on the Board of the Decatur Township Educational Foundation.
Glenn and Velma Reece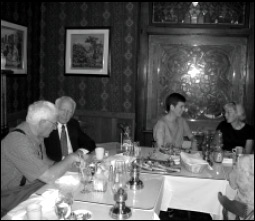 Glenn and Velma Reece were a Quaker couple who served God by serving Friends for many decades. Glen was a pastor for over 50 years, and also played an administrative role in Friends' organizations, including nine years as General Secretary of Friends United Meeting. This commitment brought the couple and their five children to Richmond in 1958 — just in time for the Reeces to be involved in the founding of ESR. Although Velma Reece was not a recorded minister, Glenn and many others referred to her as "co-pastor." Both Velma and Glenn passed away in the 1970s.
The Glenn and Velma Reece Endowed Scholarship was established in their memory by their children: Norval Reece (Pennsylvania), Lavona Reece Bane (Richmond, IN), Jerald Reece (Arizona), Leroy Reece (New Mexico) and Esther Reece Painter. It is given preferentially, although not exclusively, to second-year Quaker students who are preparing for pastoral ministry. Since its founding in 1980, the Reece Scholarship has been awarded to two students each year. That adds up to 44 scholarships — 44 women and men who have been supported as they discerned and developed their gifts at ESR, and who have gone on in turn to minister to churches, meetings and communities around the world.
The 1990-91 Reece scholars were Judith Dancy and Deborah Suess. Today, Deborah and Judith are dear friends whose lives continue in some ways to parallel each other. After several years during school as pastor of Friends Memorial in Muncie (IN), Judith ("a Tarheel gal who was yearning to go home") is now in her ninth year as pastor of Winston-Salem (NC) Friends Church. For her part, Deborah spent "a really good ten years" as pastor of West Branch (IA) Friends Church; she is just this month beginning an intentional interim ministry at Spokane (WA) Friends Church. Deborah comments, "It's really interesting that in our first pastorates, both Judith and I had positive experiences that laid the groundwork for our current ministries.
Walter and Viola Braxton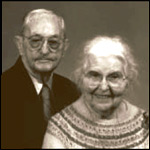 Viola Andrew Braxton was born in 1905, and grew up in a Friends' Meeting in North Carolina. Both staunch Quakers, Viola and Walter began attending First Friends Meeting in Greensboro in 1928, the year they were married. From this long involvement, they felt the need to prepare young people for Christian service. With that thought in mind, they established an endowed scholarship in 1997 at the Earlham School of Religion.
Walter Braxton passed away in February 2001. Today, Viola and Walter's commitment to Quaker religious education continues to nurture a new generation of leaders for the Religious Society of Friends.
As it happens, the 2003-4 recipient of the Braxton scholarship is a young aspiring writer named Sarah Peterson. Sarah was born in 1977, and was raised in an evangelical Friends congregation in Northwest Yearly Meeting in Washington State. Her undergraduate study was at Gonzaga University, a Jesuit school in eastern Washington where she studied political science to learn about grassroots activism and social change.